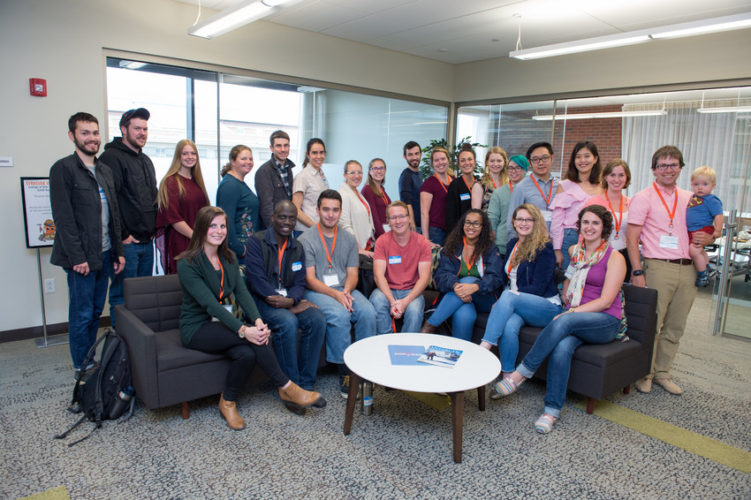 In its second academic year, EMPOWER has grown to a program of almost 30 M.S. and Ph.D. students who are interested in research and careers at the water-energy nexus. On Friday Sept. 1, EMPOWER welcomed the new group of trainees to the program. Drawing from the departments of Earth sciences, civil & environmental engineering, and political science, the ten new trainees gathered at orientation to learn more about EMPOWER and to meet all the other trainees.
The afternoon was filled with activities and information, including assignment of peer-mentor pairs, a discussion of the NSF's Research Traineeship program, and a detailed description of each of EMPOWER's training elements. Program Director Laura Lautz kicked off the orientation and current trainees contributed substantially by participating in panels focused on individual training elements.
Trainees David Zheng (mechanical & aerospace engineering) and Alex Johnson (civil & environmental engineering) gave an overview of EMPOWER's science communication class. As David and Alex noted, the final project for the class was to create a multimedia website that featured stories, written and produced by students, about New York State's ecological and environmental innovations. To see the class projects, go to http://www.scicom2017.org/.
EMPOWER trainees, Geoff Millard, Caitlin Eger, David Zheng, Emily Baker, and Alexa Stathis, participated in a panel to discuss the range of courses students might take to satisfy their Professional Development Specialization Area Requirement. Each panel participant had taken different classes based on their interests and goals, including sustainable enterprise, science teaching, data visualization and environmental economics. During the discussion, Alexa Stathis (Ph.D. student in chemistry) encouraged the trainees to "choose these classes intentionally: this is an opportunity to take classes that are going to help you prepare for your career."
The last part of the orientation was a Career Pathway Experiences panel with Kristy Gutchess, Nathan Chien, J.R. Slosson, and Amanda (Schulz) Campbell. Each panelist described their internship experience, how they found their opportunity, and what was particularly valuable with their experience. Robin Glas, who interned with the USGS in Spring 2017, contributed to the panel remotely (thanks, Robin!). Additionally, Laura Lautz provided detailed information about funding opportunities that can help support students while completing internships.
The afternoon concluded with a well-attended reception with the trainees, EMPOWER's Leadership Team, Affiliated Faculty, and staff.
Thanks to all who contributed their time and expertise to make the kick-off event a success!