EMPOWER is a group of over 40 faculty, staff, and graduate students who are interested in research at the Water-Energy Nexus. Despite this shared interest, everyone comes to the program with their unique perspectives, backgrounds, and experiences. In our new "Spotlight" series, we will learn more about the individuals who make EMPOWER a great community.
Emily Baker has been with EMPOWER since the our first kick-off event in January 2016. And, she is the first to contribute to our new "Spotlight" series!
Emily, what inspired you to become a geoscientist?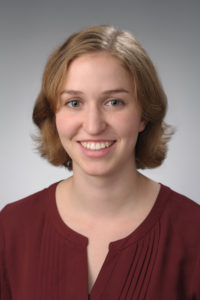 I have always enjoyed spending time outside, exploring new places, and learning how things work. These interests were what attracted me to taking my first geology class, Environmental Geology. During this course, I distinctly remember my awe as we learned that earth's magnetic field has experienced numerous reversals throughout time. Though I did not become a geology major until my junior year, I never forgot the interesting things I learned during that course, and my desire to learn about additional intriguing processes eventually drew me into the department.
What skills and knowledge have been of key importance to your success in graduate school?
Prior to starting graduate school, I used R in some of my math/statistics courses. My familiarity with R made it much easier to learn to write code in MATLAB. Additionally, many of my undergraduate classes made us write up full-length lab reports and give presentations on various topics, and this helped me have better scientific writing and presentation skills upon entering graduate school. Furthermore, the ability to find answers on the internet, in either scientific publications or MATLAB forums, has been crucial to making research progress.
Do you have any mentors who have helped guide you? What was some of the best advice that they gave you?
Two of my geology professors at Mount Holyoke, Steven Dunn and Michelle Markley, were very supportive in helping me gain research experience and allowing me to work for them in the field and in the lab, giving me the confidence to apply to graduate programs. They always had open door policies, where I could ask them for advice on any topic including what courses to choose, internship applications, and the graduate school search. They both encouraged me to go to graduate school, but also told me not to be afraid of not attending immediately; I would end up in graduate school regardless of which path I took to get there, if that ended up being what I really wanted. While I did end up going straight into graduate school, the idea that there is not a right and a wrong path to whatever career I desire really helped me relax and make the decision I felt was best for me.
What advice would you give new graduate students?
Read as many papers as you can, if you don't know what to read, ask your adviser for some they would recommend and then read through those and the papers cited within.
Be productive when you are in the office/lab.
Sleep a healthy amount, not sleeping will only make it more difficult.
Maintain hobbies and interests that you have other than your research, otherwise you will burn out really quickly.
Continue hanging out with friends.
About Emily:
Emily Baker graduated from Mount Holyoke College in the spring of 2015 with a major in geology and a minor in statistics. During her undergraduate studies, she participated in a variety of research experiences: she examined mosquito larvae populations in ephemeral pools, the role of iron redox chemistry in isotopic fractionation, and calcite-graphite thermometry in marbles.
Emily enrolled at Syracuse University in Fall 2015 as a Master's student in the Department of Earth Sciences. She switched into the PhD program after her first year of studies and recently passed her PhD candidacy exam. This past spring, she organized the department's annual Central NY Earth Science Student Symposium. She has received the EMPOWER Fellowship and the Water Fellowship.
Her current research is on groundwater-surface water interactions in the Peruvian Andes. This work combines heat tracing and hydrochemical techniques to try to assess the relative contribution of glacial meltwater and groundwater to the stream during the dry season to estimate how water resources will be affected as the glaciers continue to retreat.